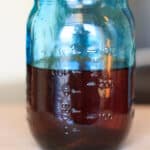 Print
How to make vanilla extract
How to make your own homemade vanilla extract. Super easy, fun, and cost effective. Great as gifts for Christmas, housewarming parties, or your foodie friends birthdays!
Cut vanilla beans into 1 inch pieces, and cut the beans open by slicing down the middle.

In a jar with a tight-fitting lid, add vanilla bean pieces and vodka.

Shake well.

Store in cupboard and shake well about once a week for at least 2 months.

After about 2 months the vanilla extract should be ready to use. If you can wait 3 months, that's even better!
Make it fun and use some unique or colorful jars to put the vanilla extract in. I used these blue mason jars and there are so many other options to add that extra touch!