This post has been sponsored by Horizon Organic. All thoughts and opinions are my own.
Need an easy weeknight dinner? Make this broccoli pasta bake with a homemade creamy white sauce made with New Horizon® Organic High Protein Reduced Fat Milk that's full of organic ingredients!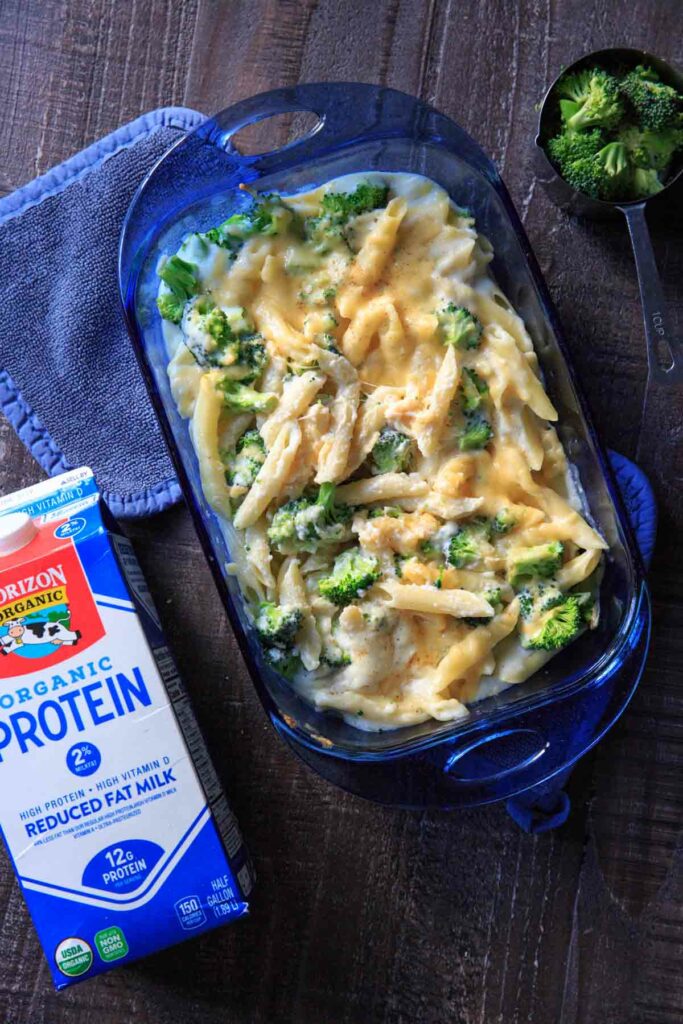 When people learn that I'm a vegetarian, one of the most frequently asked questions I hear is "how do you get enough protein?". Besides the fact that it always baffles me to hear how many people (besides my grandma) care about my protein consumption, I am generally more aware of protein content in the ingredients I consume for this reason! So when I heard that Horizon Organic had a new protein milk line coming out, I couldn't wait to try it out.
Find a store that carries New Horizon® Organic High Protein Reduced Fat Milk near you with this link! (They also have a Vitamin D version AND a protein chocolate milk flavor!)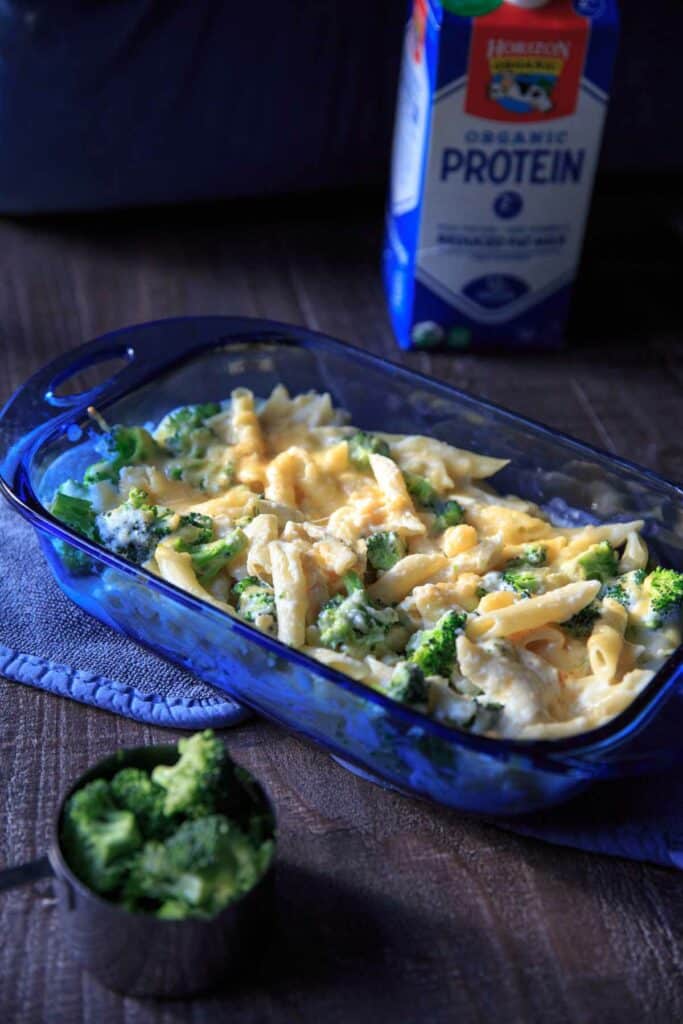 I try to buy as many organic ingredients as possible, and Horizon Organic is a go-to brand for me for dairy products. Before purchasing Horizon, I didn't even realize what the actual qualifiers were to be able to call milk "organic." The requirements are pretty simple: non-GMO milk coming from cows that have not been treated with any antibiotics or growth hormones and are living in healthy conditions without any toxic pesticides used to treat their food.

The fact that only 6% of milk sold in the United States is certified organic kind of scares me – not only is it better for you, the cows, and the environment, it encourages holistic farming practices that can improve the health of consumers and wildlife. So let's try to increase that %, yes?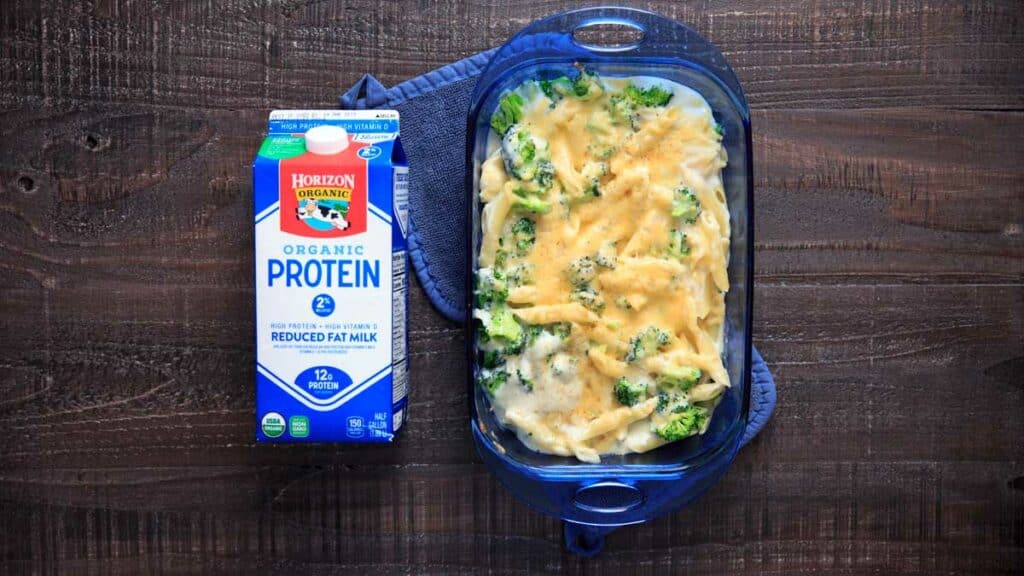 With all the traveling I've been doing lately, I have been focusing on super simple and easy-to-prepare meals for dinner. Since I love to make homemade sauces, I thought this organic high protein milk would be perfect for a homemade white sauce with pasta and vegetables – not quite an alfredo sauce but still satisfying and creamy, with organic ingredients.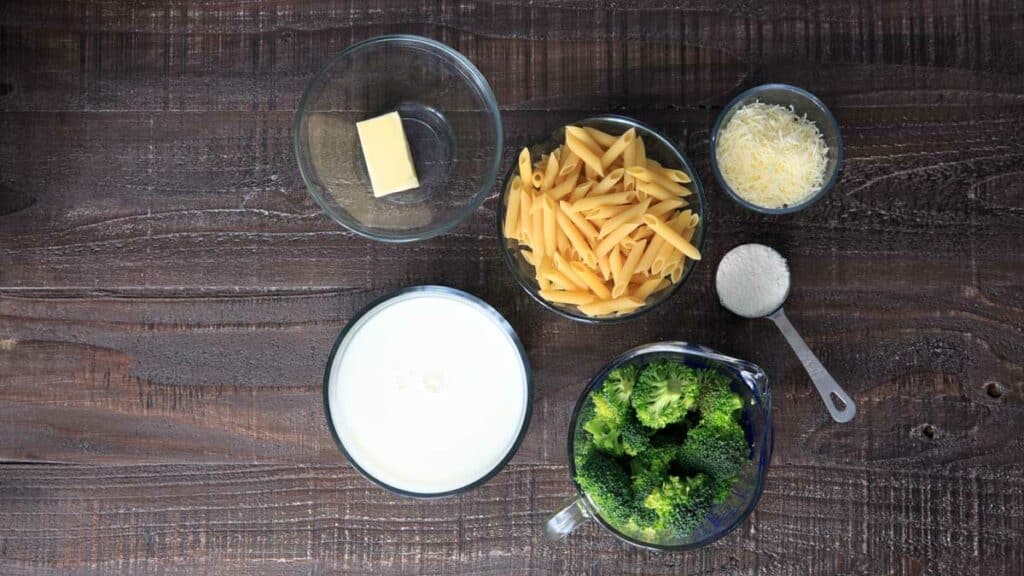 New Horizon Organic High Protein Reduced Fat Milk boosts the protein content in the sauce since it has 12 grams of organic protein per 8-ounce serving. I chose organic broccoli to use as the vegetable in this dish because it also is packed with protein!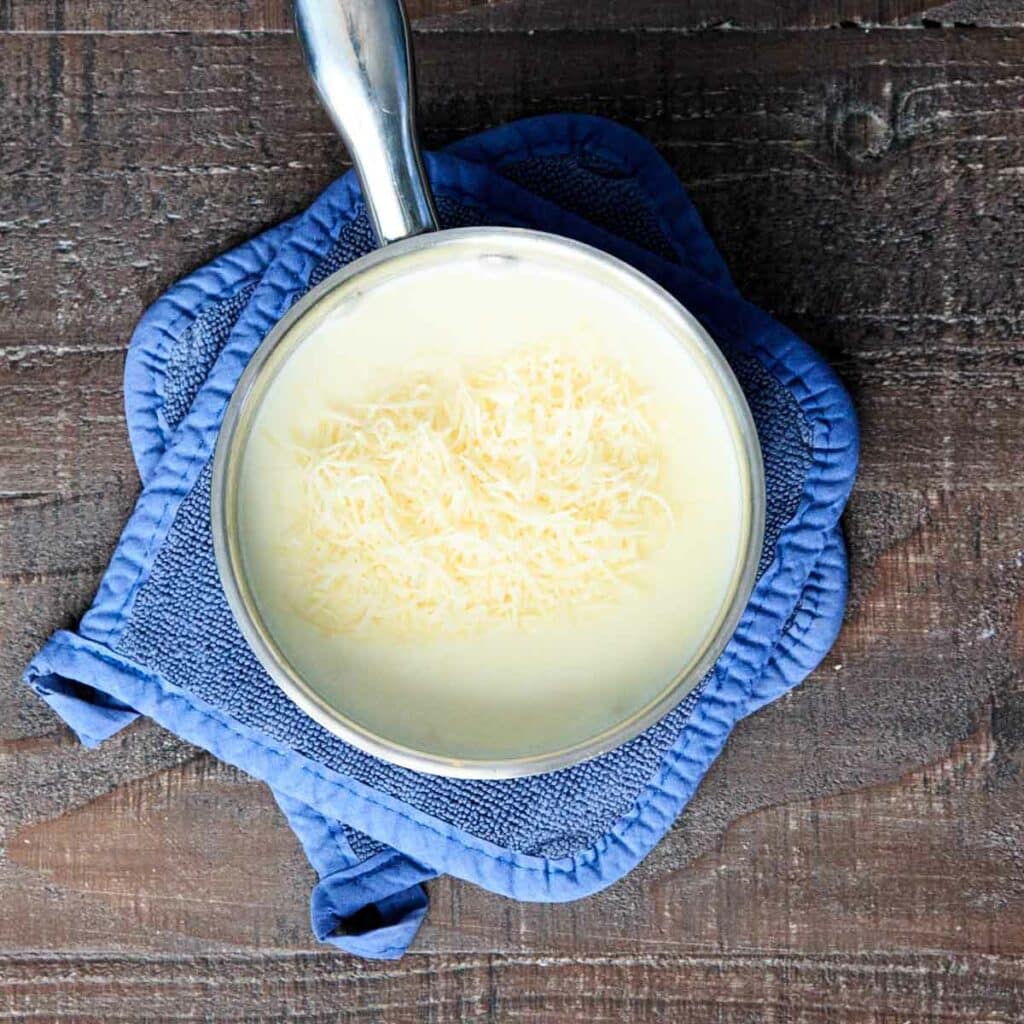 I like to also use two different kinds of cheese for an extra bonus of flavors: Italian blend to stir in the sauce and a shredded gouda to add on top.
Topping with some freshly grated organic nutmeg adds that extra pop!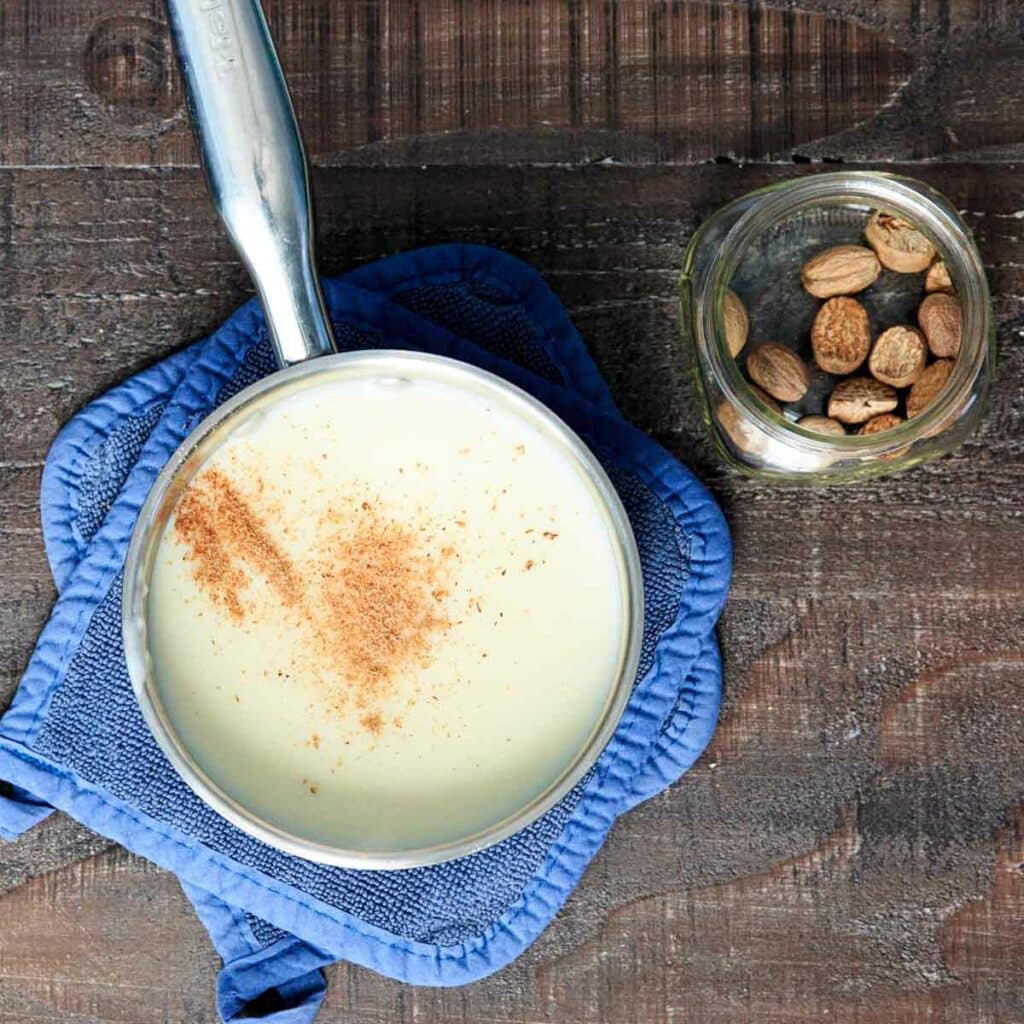 You can't get much simpler than a 6 ingredient casserole (plus spices) with minimal prep time. While the pasta is cooking, you can prepare the sauce, and then you just add everything together and throw it into the oven.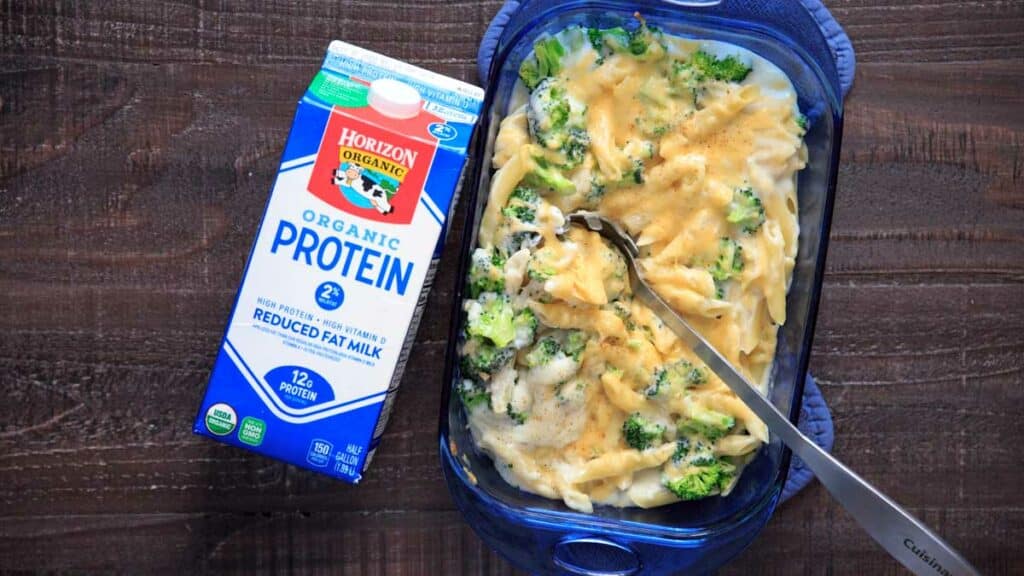 So, go find the closest store near you that carries New Horizon® Organic High Protein Reduced Fat Milk with this link!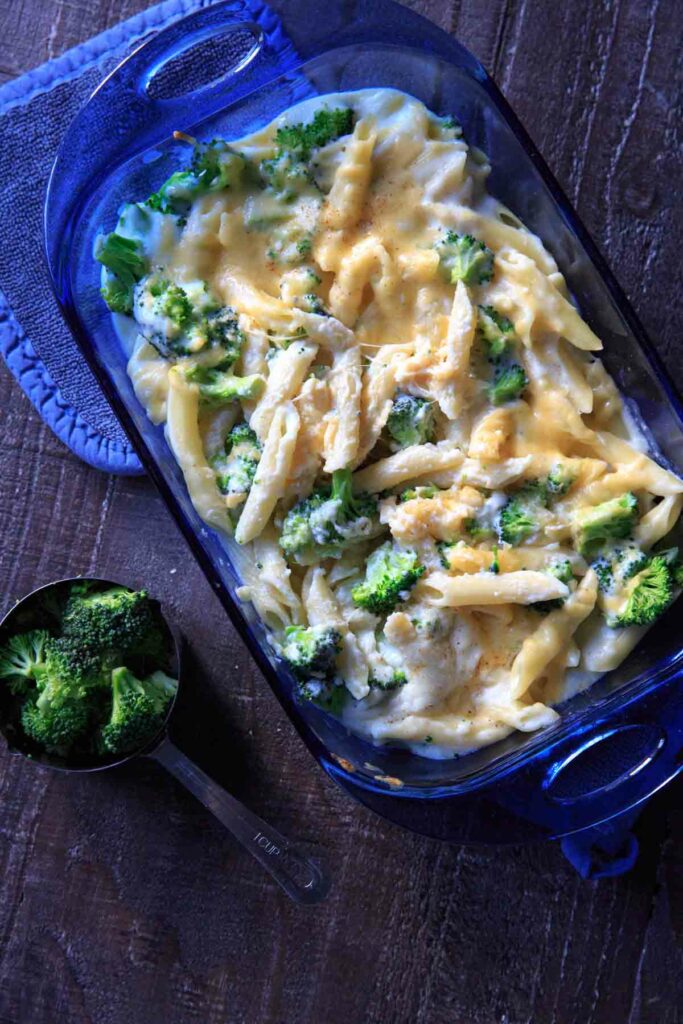 White Sauce Broccoli Pasta Bake with Horizon Organic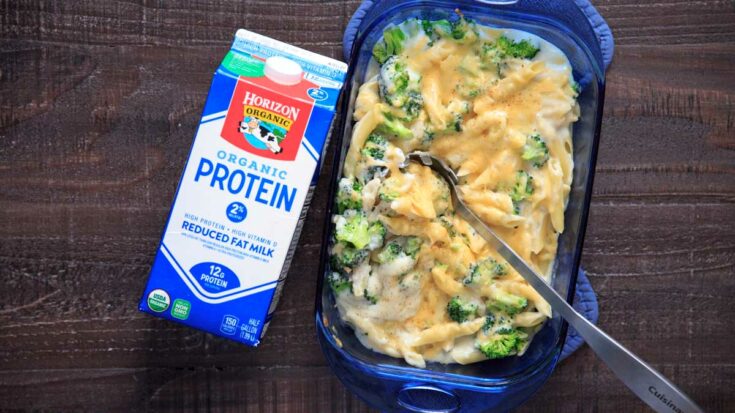 Need an easy weeknight dinner? Make this broccoli pasta bake - with a homemade white sauce and full of organic ingredients!
Ingredients
White Sauce
1/4 cup Horizon® Organic unsalted butter
1/4 cup organic all-purpose flour
1/3 cup Horizon® Organic shredded cheese
1/2 teaspoon organic ground nutmeg
Pasta Bake
3 cups organic uncooked pasta
2 cups fresh organic broccoli, roughly chopped
2/3 cup Horizon® Organic shredded cheese (same as used in the sauce or another one to add flavor)
salt and pepper, to taste
Instructions
Preheat oven to 350°F. Add uncooked pasta to a large pot of water and cook according to package instructions.
Meanwhile, melt butter and flour in a sauce pan over medium-low heat, about 2 minutes. Stir in milk and cook until slightly thickened, about 5 minutes. Add in the 1/3 cup cheese and stir another 1-2 minutes until melted. Remove from heat.
Drain the cooked pasta and add to a 9x13 casserole pan. Top with broccoli and stir in the white sauce until evenly coated. Top with the remaining 2/3 cup cheese.
Bake at 350°F for about 25 minutes, until cheese is melted. Top with extra nutmeg, salt and pepper and serve!