This post contains affiliate links, which means I may receive a small commission if you make a purchase after clicking on my links. This is not intended as medical advice. This list is meant as a guideline only, please note that it may be helpful to have your own levels checked by your medical provider before starting any new supplement.
If you are eating a vegan diet there may be some vitamins and minerals that are harder to get by food alone. This is not a comprehensive list, but rather a list of ones I've found to be helpful to me, being currently 80% vegan and 20% vegetarian. All recommendations below are vegan friendly.
Protein
Let's start with the one everyone assumes vegan are lacking: protein! While it's true that many vegan foods actually contain a sufficient amount of protein, it will depend on the diversity of your diet. Protein powder can be a good way to ensure you are consuming the amount you require, but a lot of protein powders are not vegan. We like Four Sigmatic – organic, stevia-free, and contains adaptogenic mushrooms. The flavored options are delicious and they have an unflavored version as well.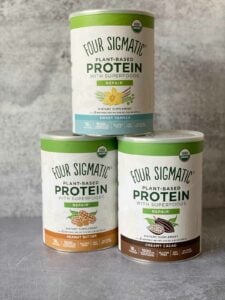 Adaptogens
Adaptogens help the body respond to and resist stress. There are many adaptogenic herbs for all kinds of purposes, and these take time to build up in the body – meaning you can't just take it once to experience the benefits.
One of my favorite adaptogens is ashwagandha, which can reduce anxiety and increase the immune system. I take Organifi green juice powder most mornings (mixed with oat milk is delicious!) which includes ashwagandha and other superfoods.
(Full Organifi review linked here.)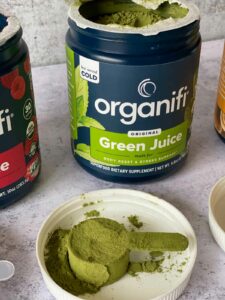 Probiotics
I personally think everyone can benefit from a quality probiotic, and unfortunately there are lot of probiotics on the market that not only contain animal products, but are not scientifically-backed. The only probiotic I've loved enough to recommend is Seed – the transparency of their ingredients and commitment to research is unmatched, and I believe it helps my digestive health significantly. Good probiotics can also help your body absorb nutrients more efficiently, and reduce bloating.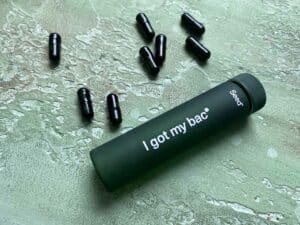 Multivitamin with B-12
Vitamin B12 is unfortunately something that has to be supplemented on a vegan diet. You can find this in fortified foods (fortified means added vitamins) like fortified nutritional yeast or fortified cereals, but is harder to get if eating an unprocessed diet. Something else to consider is if you might need a methylated version – up to 60% of people might have a genetic mutation called MTHFR that makes it harder to absorb certain vitamins, including B-12 and Folate. I have one of the mutations (which I discovered through a 23andme test).
I like Ritual multivitamins for this reason – it includes a methylated B-12 and a methylated folate, as well as a few other "essential" nutrients commonly missing from diet based on gender and age (or life stage). No fillers! See our full review for a more detailed breakdown of what each version of their multivitamin contains, but as an example the Women's Essential multivitamin also includes Omega3 DHA, Vitamin D, Iron, K-2, Boron, Vitamin E and Magnesium. If I didn't take this multivitamin I would definitely find other supplements for the Vitamin D and Iron personally.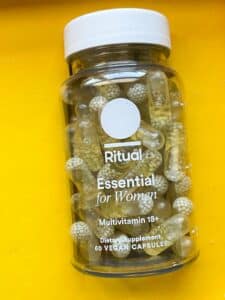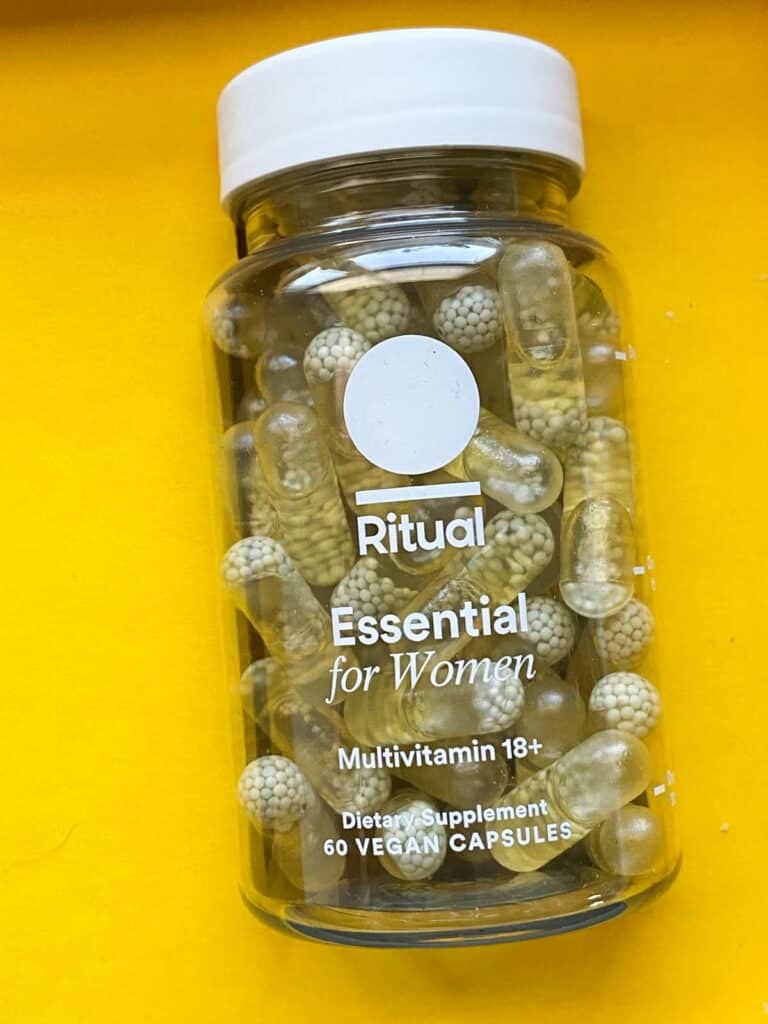 Iodine
Iodine is most commonly found in seafood and dairy products, which makes it more likely that vegans will need to supplement. Using iodized salt is one alternative to adding another vitamin, or Mary Ruth's has a vegan liquid version.
Zinc
While it's definitely possible to get enough zinc on a vegan diet, it can be trickier. If you are concerned about your zinc intake because of slow wound healing, hair loss, or low energy, you may want to get your levels tested. If you do supplement, start small – with 15 mg or less.
Mary Ruth's has a liquid zinc that makes it easier to control dosage. Be aware that too much zinc (especially on an empty stomach) can make you nauseous – I made this mistake early on by taking a 50mg dosage which was much too high for me. (Another reason it's a great idea to get a blood test before adding supplements like these.)
Summary
While supplement needs will vary person to person, I wanted to put this list together because I am often asked which vitamins and supplements I take or recommend. This list (minus the protein powder, which I just take as needed) includes the essentials of what I personally take every day – or most days, as I'm not perfect!
I used to not consistently take any supplements, until a few years ago when I started experiencing physical symptoms of some deficiencies. This is why it is important to listen to your body, and also just to be aware of what is more likely to be lacking in your diet when not consuming animal products.