This post contains affiliate links, which means I may receive a small commission if you make a purchase after clicking on my links. All opinions are my own.
Our review of Pique and their wide variety of tea crystals and supplements. Ready to buy and don't need to see the review? Use the discount code TRIALANDEATER to save 5% on your first purchase!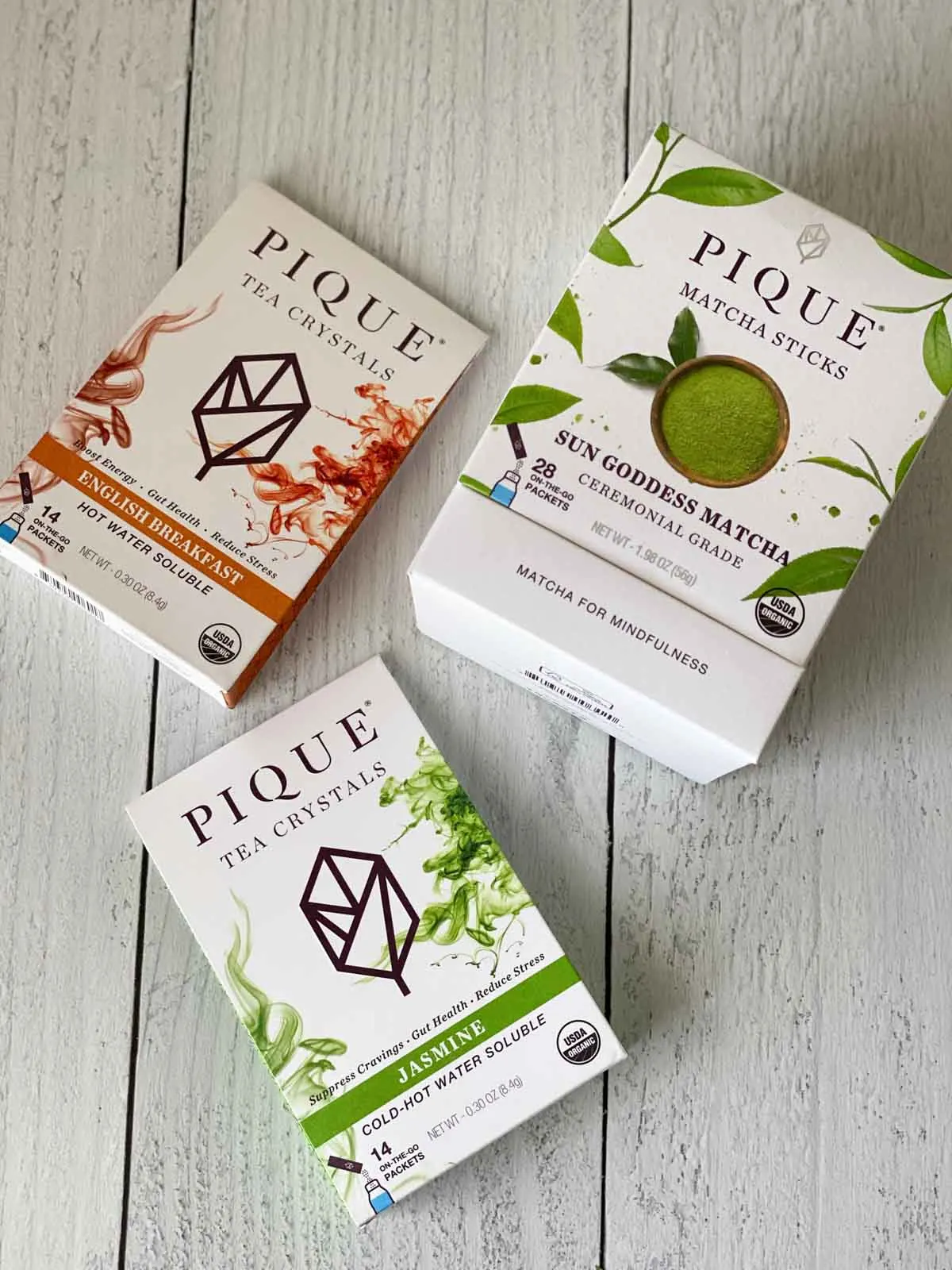 About Pique Tea
Have you heard of Pique Tea?
They are organic tea "crystals" (which really look like a powder) that dissolve instantly in water – no tea bags or steeping required!
Black tea, green tea, herbal tea – they have so many choices! Some of them are even dissolvable in cold water.
I'm honestly not that much of a tea person, but the Pique brand initially caught my interest (piqued my interest?!) because of their quality and testing standards.
A few years ago I started to learn about all sorts of toxins and microplastics that can be in tea and tea bags – so finding out that Pique is one of the cleanest options meant I knew I had to try.
Purity is one of Pique's highest standards and all their products are triple screened for toxins like pesticides, mold, and heavy metals to ensure the best quality.
Their have a cold-brew crystallization process which preserves the active compounds in the "superplants" used at their maximum potential.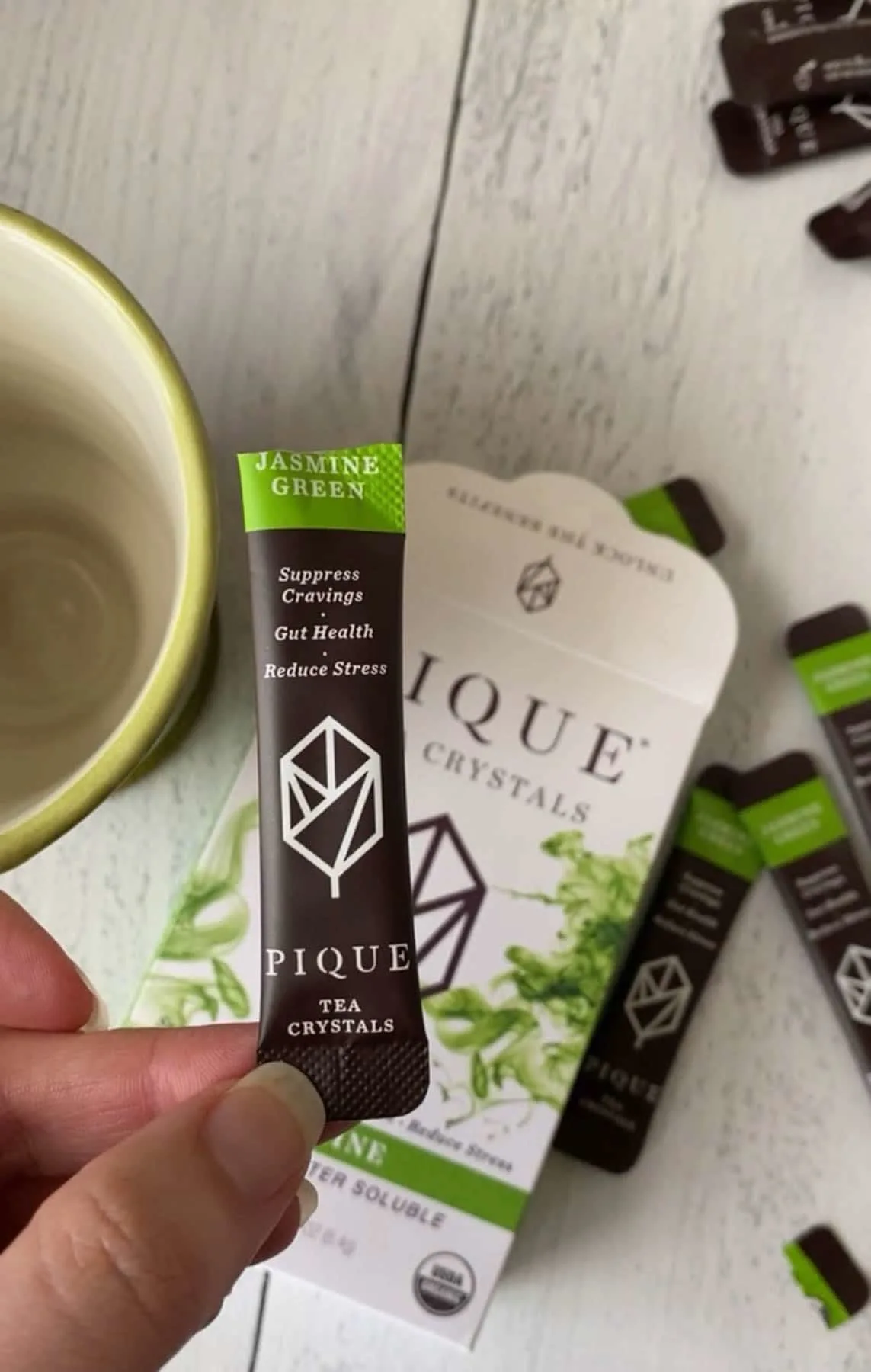 Types of Tea
Green Tea
One of their most popular types of tea is the Sun Goddess Matcha, and for good reason! Crafted by a Japanese tea master, this version is QUADRUPLE screened for toxins and is ceremonial grade.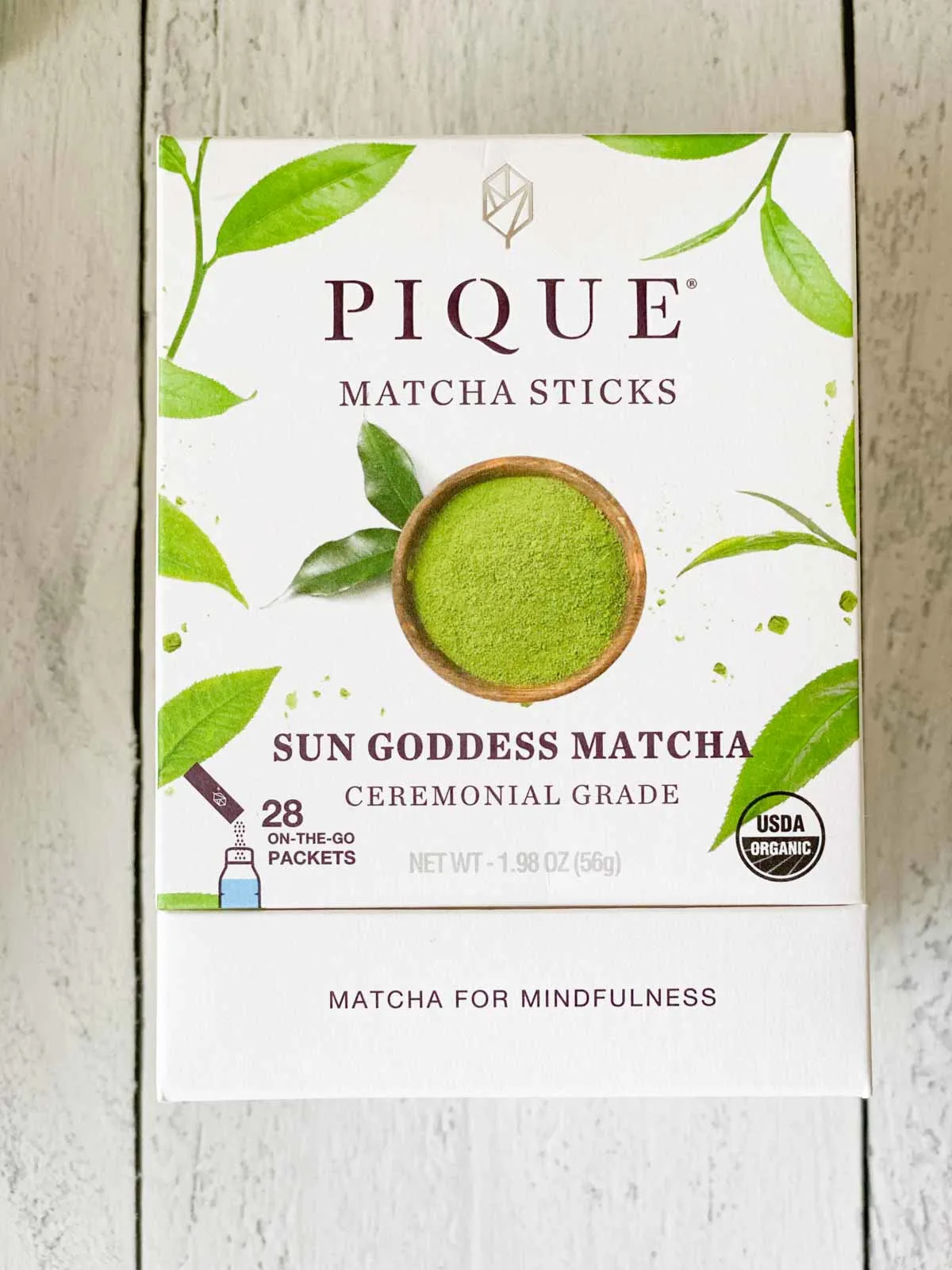 There are other types of green teas as well – like jasmine tea, which has both caffeine and l-theanine for calm, focused energy. High polyphenol levels help support your gut microbiome for healthy digestion and glowing skin.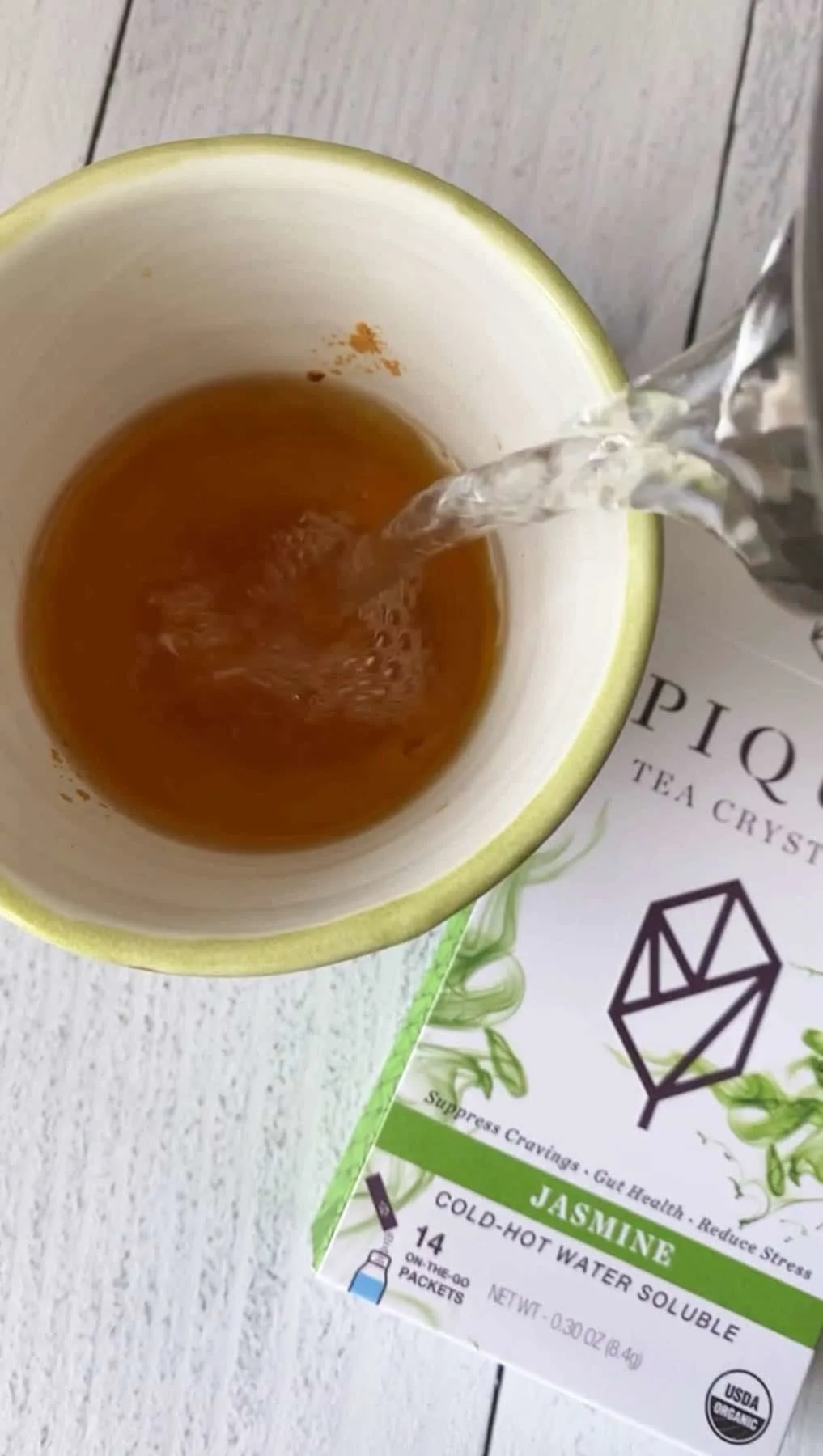 Black Tea
There are a handful of black teas available, including an English breakfast black tea – which I was surprised how much I liked it!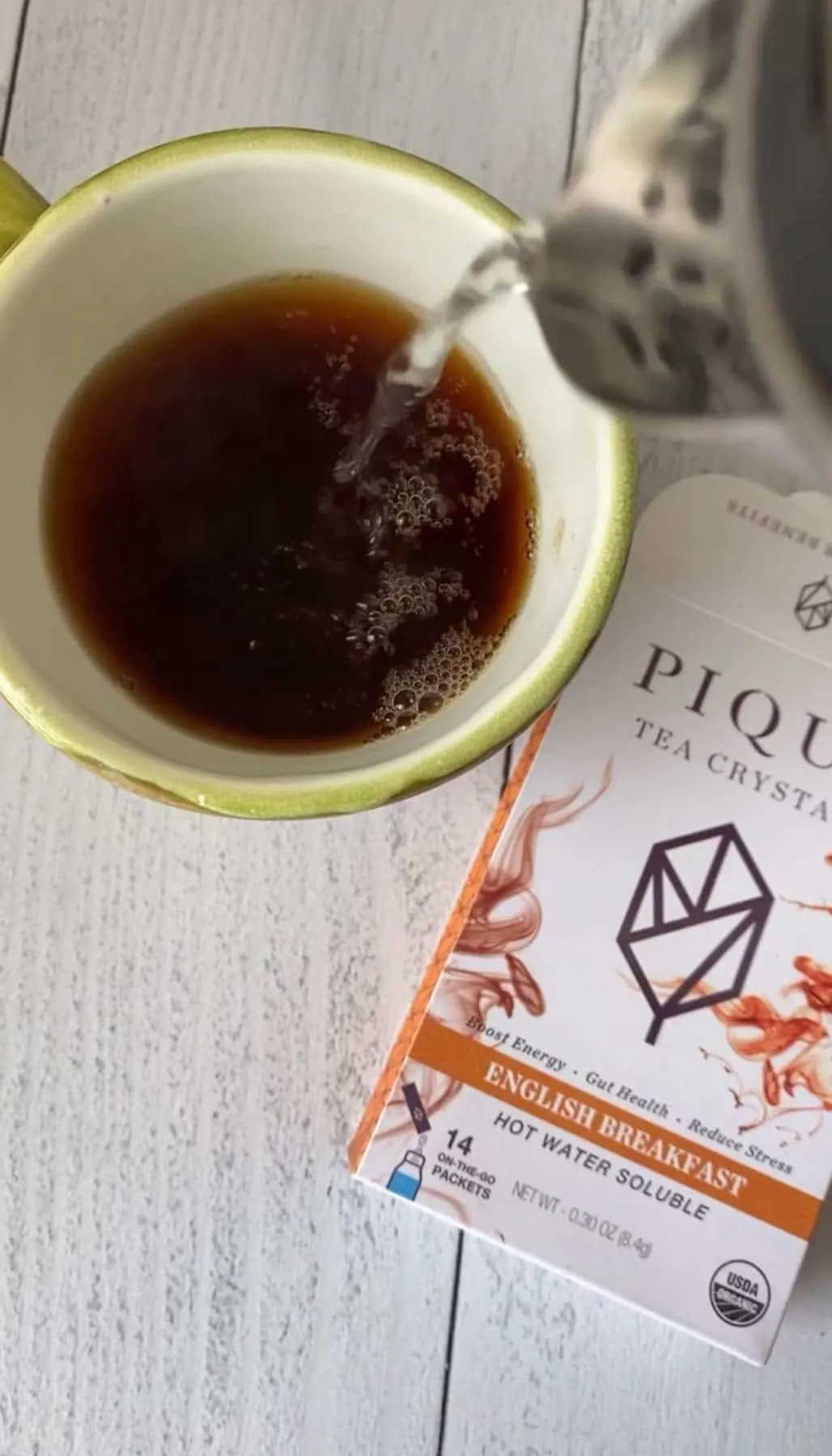 One thing I love is that each tea box clearly lists out the levels of caffeine, polyphenols and L-theanine per packet, as well as instructions with the best temperature water to mix with. Some of them are even cold-water soluble which is amazing for travel!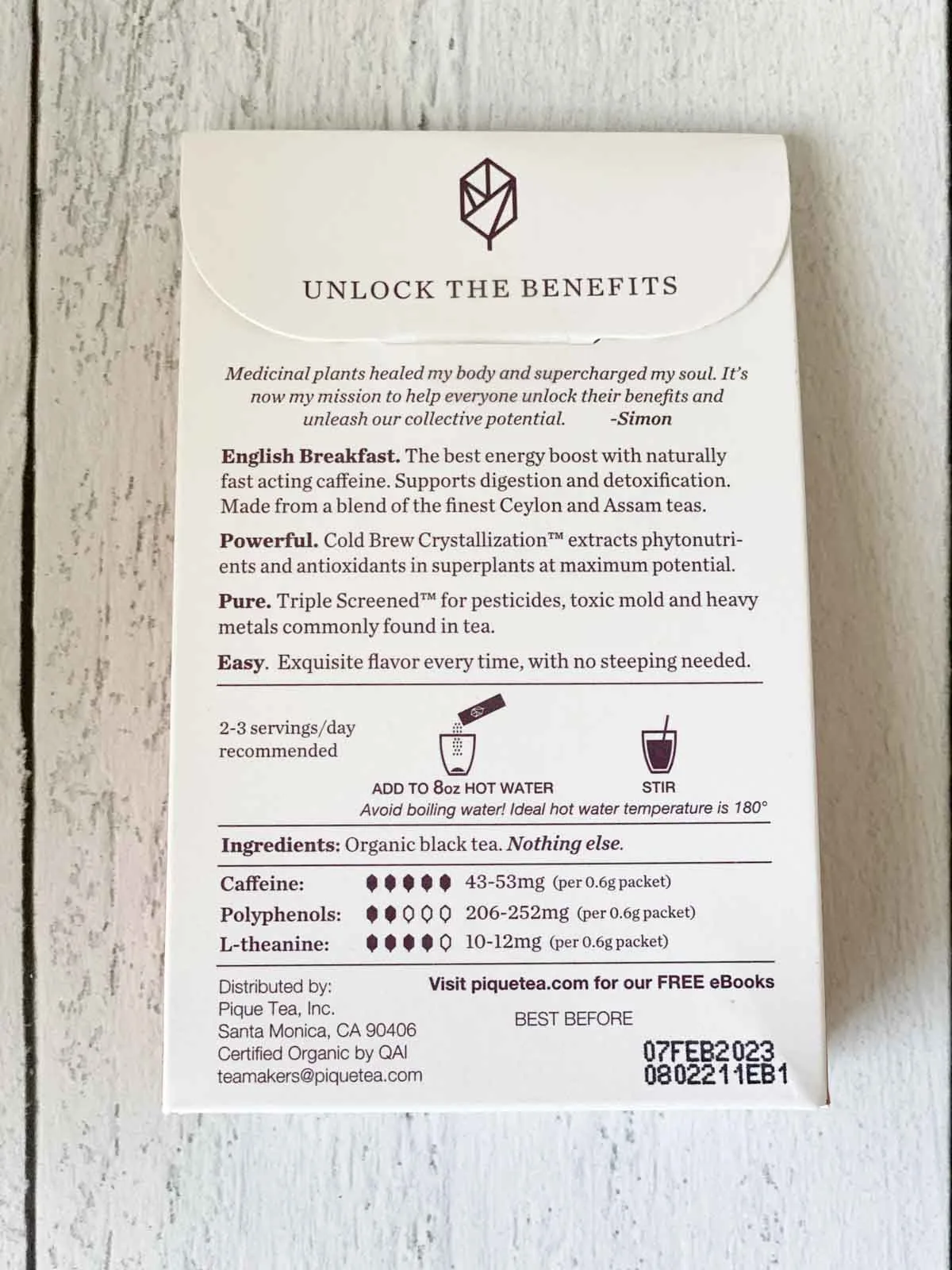 Herbal Teas
I haven't tried any of their herbal teas yet but this seems like the most fun category, with unique flavors like Electric Turmeric or Hibiscus Beauty.
That will be my next order! I'm much more likely to drink an herbal tea at night so I'm excited to explore these flavors.
Pique Summary
The transparency and organic ingredients make Pique a total win in my book. I've only tried a few of the flavors so far, with the matcha being my top pick.
I love that you can shop by tea type or by health need (like digestion, energy, fasting, radiant skin or immune support) – and regardless of what you choose to drink, knowing you're getting the best quality.
Remember to use this link to apply coupon code TRIALANDEATER to save 5% on your first order!