This shop has been compensated by Collective Bias, Inc. and its advertiser. All opinions are mine alone. #PawsToSavor #CollectiveBias
The concept of mindfulness has been a big thing lately, at least in my life. The word itself seems to scare off a lot of people, and is confused with "meditation" which some people definitely have no interest in. All mindfulness really is, is about being in the present moment – not thinking about what's coming next, or what's already happened. For an anxious/worrier type person (that's me!) it's much easier said than done. A trick I learned that helps to bring me focused on the present is to say "here I am, doing (fill in the blank)" to myself. It sounds a little silly, but it works! My cats have actually taught me a lot about mindfulness lately, and how to "paws" to savor life moments.
Meet Nala and Milo, sibling Maine Coon cats who always make sure I'm in the present moment when they're around.
The morning starts with Milo asking for food, purring loudly and waiting patiently a half inch from my face until I get up (here I am! I'm sure he's saying). Nala in the meantime joins me under the covers.
Once I get up and start the coffee, one or both of them will inevitably try to get my attention in one of a million adorable ways. Reminding me it's time to eat!
The morning mealtime is a big part of our daily routine, since it's sometimes the only time of day that we are all in the same room before we all go to separate corners to nap/work (they nap, I work – to be clear). Even though I'm one of the furthest things from a morning person, I've come to enjoy our morning routines and look forward to the attention and time together.
Once the food comes out, the cats have no trouble being mindful about eating – I'm pretty sure they are not thinking about anything other than their food at that moment! Unless they're already thinking of the next meal, I could see that being true for Milo.
I know this is a vegetarian food blog, but cats gotta have their meat. (Trust me, my mom tried to feed our family cat veggies and she would have none of it.) My cats have just switched to Purina® Pro Plan® Savor® Shredded Blend, which has real meat (poultry or fish) as the #1 ingredient. High in protein, rich in antioxidants and full of omega fatty acids and prebiotic fiber needed to maintain healthy digestion, bones and skin. I think my cats love it because it's not just dry kibble – it has shredded tender meat too. You can read more information about it on PetSmart.com.
It can be found at PetSmart nationwide. If you visit your local store between May 31 and July 5 of 2016 and spend $15 on any Purina® Pro Plan® product, you'll save $15 on your next purchase of 10.5-lbs. or larger Purina® Pro Plan® Dry Cat or Dog Food or Litter by 7/31. You can even bring your pet into the store if you like to let them sniff out their favorite flavor – but this is a bit trickier with cats!
After eating and before our morning is over, we take some time to watch the birds.
And watch each other.
And end the morning with a full belly and a cuddle in the sun.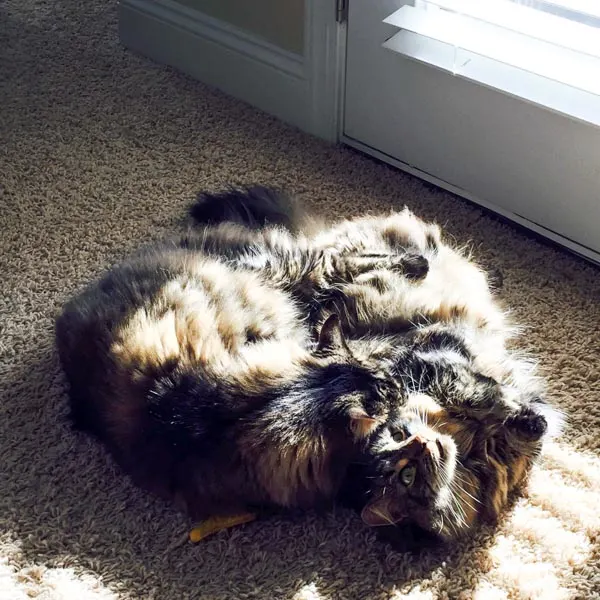 The recipe for "mindful mornings" with your pets:
Share some snuggles before getting out of bed (if applicable!)
Enjoy mealtime with their favorite food (such as Purina Pro Plan)
Watch the birds together (or other applicable nature sightings outside)
In general, don't rush through the morning moments! Take a minute to have a staring contest, play with your pet, or get some extra cuddles in before the day starts. Remember the phrase "Here I am" to keep you focused on the present moment.
How do you "paws" to savor life's little moments?