I was gifted a copy of the book Kitchen Creativity for review, but the giveaway is funded by me. All opinions are my own.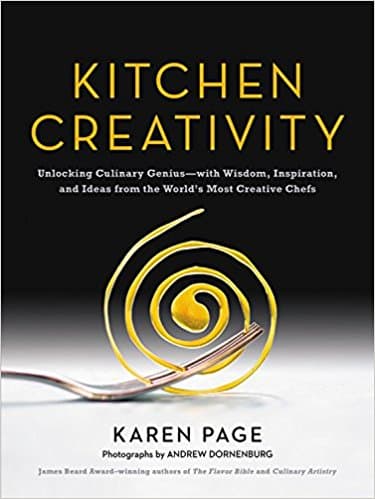 This post contains affiliate links.
Kitchen Creativity: The name implies exactly what this book is about: how to be creative in the kitchen. I was drawn to this book because this concept is the main reason I started this blog in the first place – I didn't have a clue how to cook without specific instructions (and even then I would probably mess it up).
That's why this easy ziti was my go-to recipe for the first 50 times I cooked dinner for other people.
Even with the recipes I make now, my goal is to write about the process in a way that gives you, as my readers, ideas to make it your own or adapt to your tastes and preferences.
Personally I don't think you can teach creativity exactly, but I do think it can be practiced if you have desire to learn. And that is where this book comes in to play – a kind of guided practice.
Stage 1 – Mastery
Acquiring knowledge, skill and control. My favorite quote from this section is:
Great chefs don't ask "Why?" They ask "Why not?"
This section also walks through a bit of history of various flavor combinations.
Have you ever thought to yourself, "whose idea was it to put those ingredients together for the first time (and when)?" This might answer some of those questions.
I've had this actual thought about french toast, which is one of the first foods listed, somehow traced back to the early 100's.
Stage 2 – Alchemy
When I see the word alchemy, I always think of a witches cauldron. Which makes a little more sense when google tells me one definition is, "a seemingly magical process of transformation."
This section walks you through flavor profiles, dynamics of different aromas, and more definitions that will help you understand how to pair ingredients together when making a new dish.
Which brings us to…
Stage 3 – Creativity
Gives examples of, and ideas on how to capture creativity.
My favorite part of this section is page 236-237: The Kitchen Creativity 50. A list to spur ideas when you need it like, #17. Minimalize it. Eliminate one more ingredient up to the point that risks losing the essence of the dish. And #41. Taste-shift. Serve a savory version of a typically sweet dish, or vice versa.
While this book is not strictly vegetarian, Karen page is also the author of the Vegetarian Flavor Bible, which I've praised on numerous occasions before and included in my gift guide.
Part two of this book is a little bit like the how the Flavor Bible works, where you look up one ingredient and see what flavors match with it. But this also lists ideas by various topics and holidays.
They have ideas for all sorts of topics – Super Bowl? Check.
Cooking dinner based on your guests personality types? Check. (Seriously. They talk about the Enneagram! Side note: I'm a total personality tests nerd.) (Second side note: My personality type lists dark chocolate fondue, so I think they've got something here.)
Foods listed by color, season, generational preferences.
In Summary:
Who is the Kitchen Creativity book for? For one, it's great for food bloggers (like me), but also people who simply want to be more creative in the kitchen, as the name implies. Aspiring and seasoned cooks would all get at least a handful of tips and tricks out of this, and I'd be willing to bet it's more like dozens.
If you are the type of person who likes to try new foods, but just don't quite have the confidence on where to begin, this book as well as the Vegetarian Flavor Bible would come in handy. There's also a non-veg specific version of the Flavor Bible if you prefer.
And as a bonus, I'm giving away a copy of Kitchen Creativity to one of YOU! All you have to do is enter via the Amazon link below by using your Twitter account. Unfortunately this giveaway is limited to people living in the United States. Entries close end of day Thursday, December 21 PST so you'll have time to get the book by Christmas. Good luck!