As an Amazon affiliate, I earn from qualifying purchases.
Trial and Eater's review of the plant-based protein bars from Mezcla! Flavor options from Japanese Matcha Vanilla, to the sweet Peruvian Cocoa Peanut Butter, and the spicy Mexican Chipotle Hot Chocolate. All are vegan, gluten-free, non-GMO and delicious! Read more about them and find an exclusive discount code below!
Ready to buy and don't need to see the review? My readers can use the code TRIALANDEATER for 15% off any purchase on EatMezcla.com, OR get them cheaper if you subscribe on Amazon.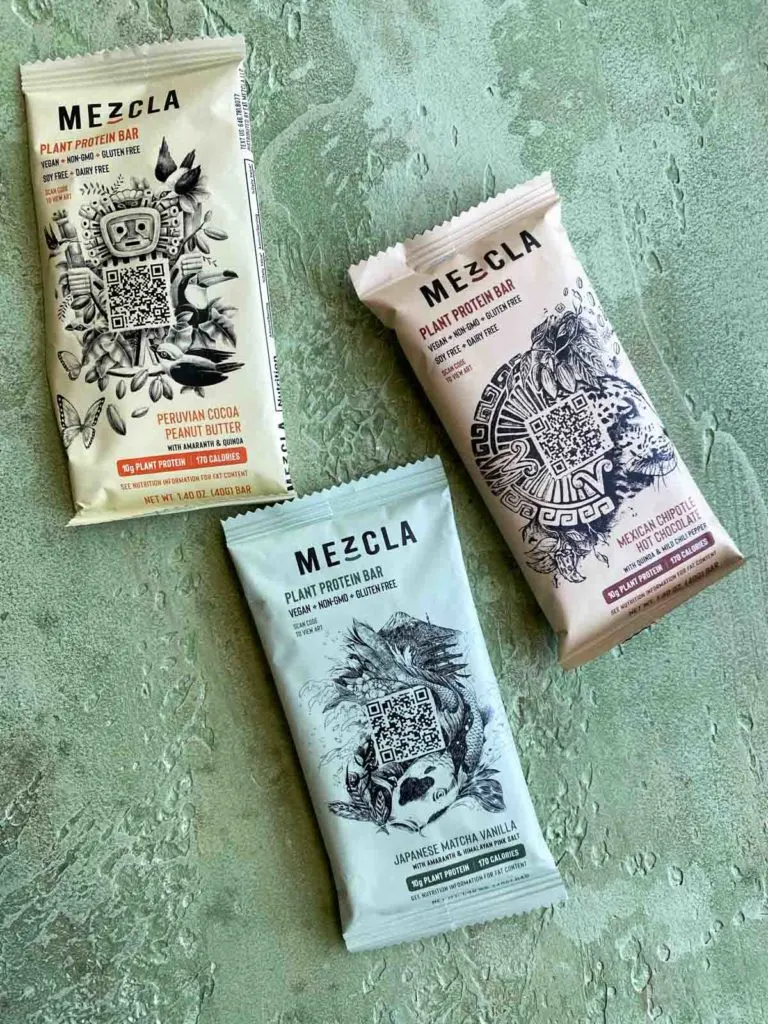 The bars from Mezcla (which means "mixture" in Spanish) are plant-based protein bars that come in unique flavors and each contain 10 grams of protein! They are vegan, gluten,-free, and non-GMO, with only 170 calories per bar. Even though they are made with healthy ingredients like quinoa and amaranth, they don't taste like a normal protein bar – they are actually delicious.
With each bar you are supporting the "Mezcla Movement" – a percentage of proceeds is used towards providing art supplies and funding art projects in underserved communities through the U.S.
The Flavors
Currently Mezcla has three flavor choices:
Japanese Matcha Vanilla – One side has icing and the other side you can see the texture with the amaranth. Earthy yet sweet flavor! In addition to the Japanese matcha, it has organic vanilla extract, sunflower seeds and chickpeas.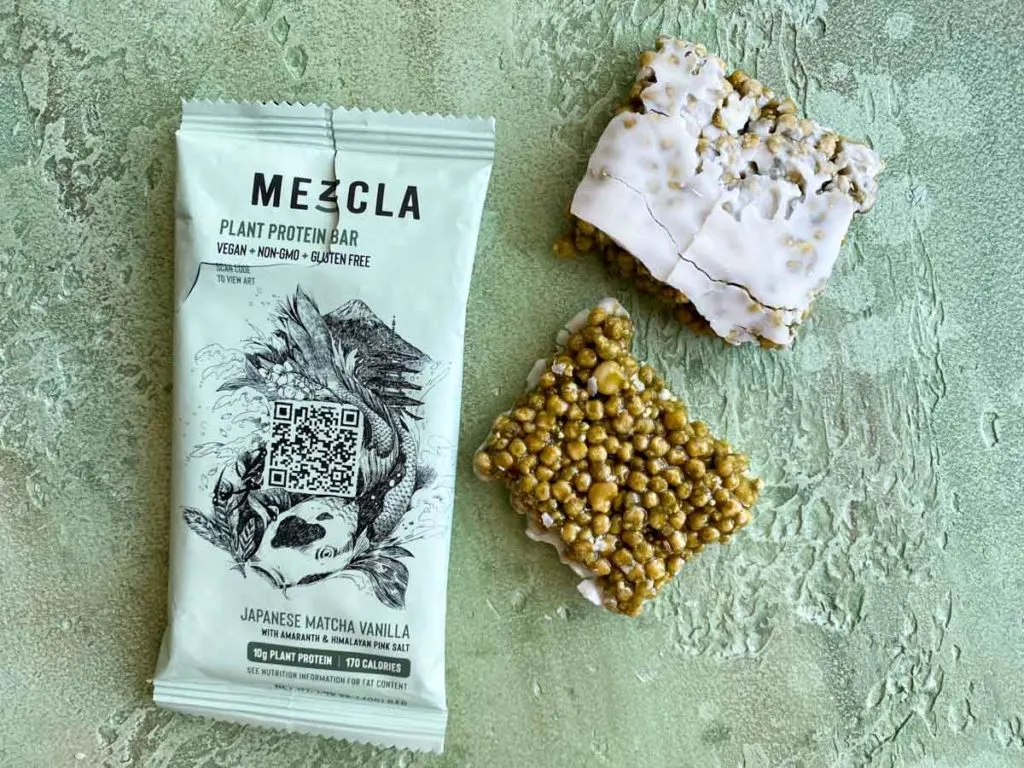 Mexican Chipotle Hot Chocolate – This one has sweetness while you're chewing it and a kick of spicy after you're done (from the Mexican chipotle!). If you like a sweet and spicy twist, and love chocolate – this one is for you!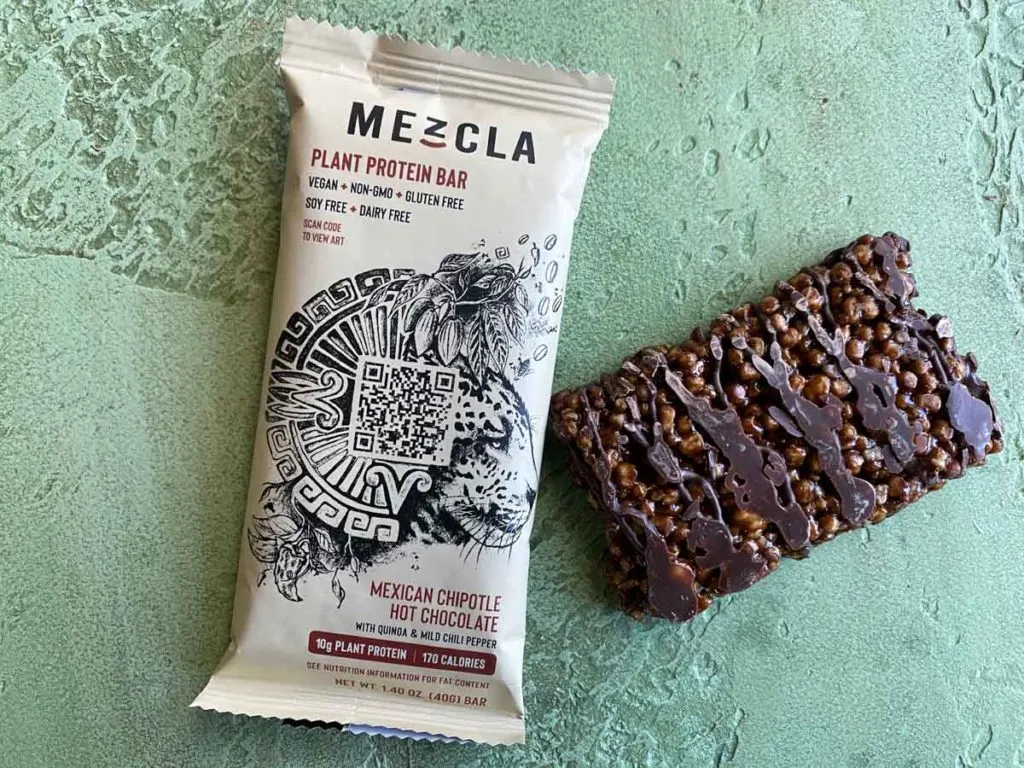 Peruvian Cocoa Peanut Butter – Chocolate peanut butter fans, start here! One side is covered in chocolate and the other side has the drizzle you see below. This one is my personal favorite. The cocoa is actually from Peru, and also includes peanuts, pea crisp, quinoa, chickpeas and sea salt.

For the full list of ingredients, check out the photo below.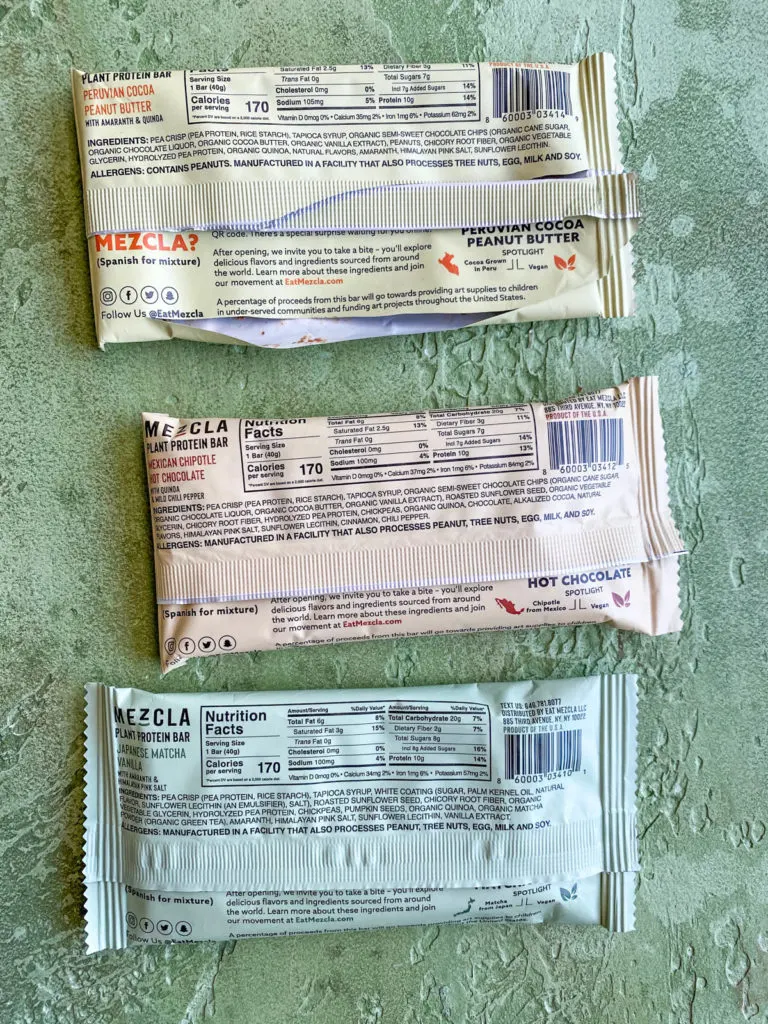 Final Thoughts
If you're looking for a scrumptious soy-free, dairy-free protein bar, I recommend these! The unique flavors keep it interesting and most of the ingredients are organic and healthy.
We love a company who gives back, so supporting their art initiative is amazing too. You can even scan the QR code on the wrappers and see some special artwork!
The easiest way to get your hands on these is to find them on Amazon, you'll get them quickly with free prime shipping!
Which flavor do you think will be your favorite?