Thank you for joining for day 7 of Trial and Eater's Holiday Giveaway series for some of my favorite products. If you haven't entered for day 6's prize yet, click here to find that entry form (all giveaways go through December 17, 2019!)
This post contains affiliate links, which means I may receive a small commission if you make a purchase after clicking on my links.
Today, my friends at Balance the Superfood Shot are giving away (1) 6-pack sampler of their wellness shots! (This giveaway is only for residents of the United States.)
Each of these shots give you 1/2 your daily servings of fruits and vegetables! The prize pack will include 2 of each of the blends below.
Balance the Superfood Shot Foundation Blend is two ounces of delicious, organic pineapple, lemon, carrot, beet, cranberry, blueberry, cherry, spinach, kale, acai berry, camu camu, goji berry, elderberry and dragon fruit (with a little turmeric thrown in).
The Turmeric Blend of Balance the Superfood Shot is two ounces of bold and delicious, organic turmeric, tart cherry, orange, papaya, ginger, cinnamon and black pepper (for turmeric and curcumin absorption).
Balance the Superfood Shot Immunity Blend is two ounces of sweet and tart, organic elderberry, acerola cherry, orange, concord grape, carrot, beet, blueberry, pomegranate, spinach and broccoli.
In addition to this giveaway, if you want to order these for yourself or as gifts, my readers can use code TRIALANDEATER at checkout to save 50% off your initial flex shipment order. (Also, for every month following, you'll get a recurring 20% off (for Balance the Superfood Shot) & 15% off (for supplements) with FREE shipping!)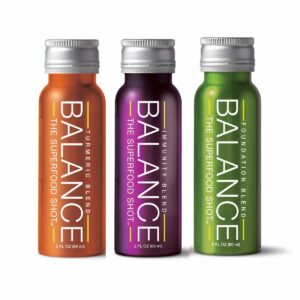 How to Enter:
See the Rapplecopter box below? It's how we keep our giveaways legal.
First, login using either your email address or your Facebook account. Please make sure that your email address is correct and/or your Facebook account is active as this will be our only way to contact you if you win!
After you have logged into Rafflecopter you will find today's giveaway. Just below the image of the giveaway, you will find prompts on how to enter.
Click on the prompt you'd like to enter and once you fulfill the requirement your entry will be logged. Each option you complete will give you one entry to the giveaway. The more steps you complete, the more entries you will get to win.
After you submit at least one entry, you will unlock the "Refer a friend" option – if your friends enter the giveaway through your special link, you'll get more entries!
Each giveaway will be considered its own separate giveaway, so make sure to enter all of the giveaways you would like the chance to win. All giveaways will close at 11:59PM EST on December 17, 2019.
All winners will be chosen at random on December 18, 2019 and the winners will be notified by email. Winners will also be announced within the Rafflecopter box below after this date.
The prizes will be mailed out to the winners by the sponsor within 30 days after the winner has been verified.
We reserve the right to cancel or suspend the Giveaway or modify it in any way we see fit, in our sole discretion.
ENTER BELOW
Find Day 8's giveaway by clicking here