Thank you for joining for day 2 of Trial and Eater's Holiday Giveaway series for some of my favorite products. If you haven't entered for day 1's prize yet, click here to find that entry form (all giveaways go through December 17, 2019!)
As an Amazon associate I earn from qualifying purchases.
Today, my friends at Zulay Kitchen are giving away 5 of their best-selling stainless steel lemon squeezers! Winners must be in the United States for this one!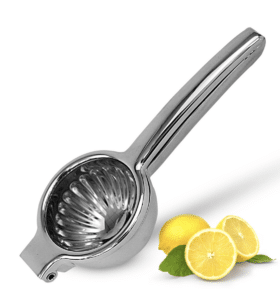 Each stainless steel lemon squeezer valued at $25.99+ and is backed by a 100% guarantee. More info from their amazon page:
MAXIMUM STRENGTH FOR PROFESSIONAL JUICE EXTRACTION: Our premium citrus press is made with ultra-strong high quality 18/8 STAINLESS steel, with the perfect metal composition for no corrosion or rusting and unbreakable tank status. You also will have NO SEEDS in your juice. Works perfectly on Meyer lemons, Key limes, limequats, Mexican limes, Eureka or Lisbon lemons, Rangpur or Tahiti limes, from Florida, California or Abroad our citrus juicer tool can squeeze them all with maximum result.
MADE WITH HIGH QUALITY STAINLESS STEEL This easy-to-use and easy-to-store lemon squeezer is built like a tank. It will last literally a lifetime, if anything happens to it we WILL cover it, just reach out to our USA based customer service team. No more bulky, hard-to-clean juicers crowding the decor of your home bar or kitchen, this citrus press has you covered. Whether you're a chef or simply want a pampered squeeze, you can be drinking lemonade in a just seconds.
STURDY HEAVY DUTY METAL BOWLS this 2-in-1 lemon press/lime press can juice limes, large lemons and even small sized oranges. This manual juicer is made with sturdy food-grade stainless steel, non toxic certified, lead-free material, it is safe and reliable. Not made from cheap aluminum.
CLEANS IN SECONDS AND IS DISHWASHER SAFE you can easily take out your citrus press for that extra touch in your food or cocktail and simply put it in the dishwasher on the upper shelf like a mug or guacamole bowl. Or, if you don't use an automatic dishwasher, cleaning it by hand is a breeze.
ENGINEERED TO BE EASY ON THE HANDS watch limes, lemons and even oranges beg for mercy even with a soft squeeze of the hand. If you are used to hand-squeezing citrus, you will be truly amazed at how easy it is to use this professional lemon squeezer.
Here's How to Enter:
See the Rapplecopter box below? It's how we keep our giveaways legal.
First, login using either your email address or your Facebook account. Please make sure that your email address is correct and/or your Facebook account is active as this will be our only way to contact you if you win!
After you have logged into Rafflecopter you will find today's giveaway. Just below the image of the giveaway, you will find prompts on how to enter.
Click on the prompt you'd like to enter and once you fulfill the requirement your entry will be logged. Each option you complete will give you one entry to the giveaway. The more steps you complete, the more entries you will get to win.
After you submit at least one entry, you will unlock the "Refer a friend" option – if your friends enter the giveaway through your special link, you'll get more entries!
Each giveaway will be considered its own separate giveaway, so make sure to enter all of the giveaways you would like the chance to win. All giveaways will close at 11:59PM EST on December 17, 2019.
All winners will be chosen at random on December 18, 2019 and the winners will be notified by email. Winners will also be announced within the Rafflecopter box below after this date.
The prizes will be mailed out to the winners by the sponsor within 30 days after the winner has been verified.
We reserve the right to cancel or suspend the Giveaway or modify it in any way we see fit, in our sole discretion.
ENTER BELOW