CoSchedule Review. Schedule Instagram, Facebook, Twitter, Pinterest & more all from your CoSchedule calendar or WordPress plugin. Built-in customizable templates make it easier than ever!
This post is part of my blogger resources collection. To see the whole list of recommendations check out this page.
CoSchedule started out as a simple social media scheduling tool, but has grown so much to be a tool I can't live without! Editorial planning, calendar management, and social stats are just a few of the things that CoSchedule helps me with.
Latest Video:
Coschedule publishes monthly updates on what is new with their tool, and here is a link to the January 2020 video! After you watch that, keep reading to how I use the tool every day!
How I Use CoSchedule
Social Share Templates
One of my favorite things about CoSchedule is that you can create a template for sharing your blog posts, both new and old. This not only saves a ton of time, but makes sure that you are continuously sharing older content evergreen content to your followers!
For example, since I created a template for when I share a new recipe, it will automatically be scheduled to go out on Facebook, Twitter, Tumblr, Pinterest and Instagram that same day. You can set a specific time or choose for CoSchedule to choose the best time based on your followers engagement levels. Not only can I schedule shares for when a post goes live, but I can set it up any time in the future – so if I want to have a Facebook share again in 2 months, or even in a year, I can build that in the template.
As an example, when I publish a new recipe I not only sent out 6 shares on various social networks the day it goes live, but I have it scheduled to repost to twitter the following week and the following month. Then I also have it go into a Requeue group (more on that below).Most recipes are evergreen, meaning they are still relevant at any time, so it's important for me to set up a system where my recipes are shared well into the future! CoSchedule helps me do that.
Requeue
Requeue is a feature that allows you to save a social message (like the example above), and put it into an automatic queue that means it will republish the message after a certain amount of time. This is helpful since most of your followers on any given platform don't see everything you publish, so pushing it back out every month and/or year means new eyes will see your content each time!
I have Requeue groups for seasonal recipes, certain holidays and recipes that can be enjoyed at any time of the year.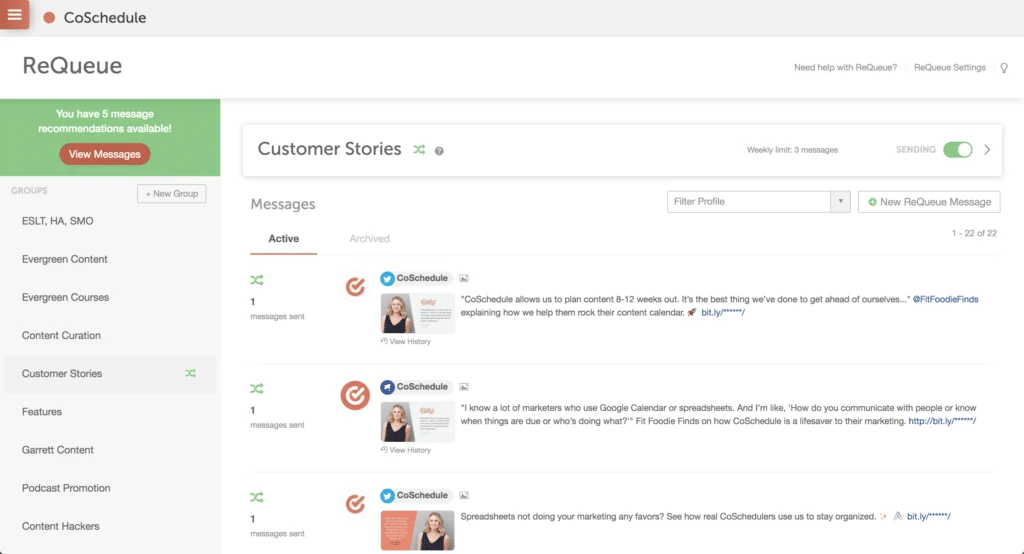 Calendar
The calendar view makes it super easy to see all your scheduled content at a glance. You can drag and drop anything on your calendar to a better day if you need to reschedule, or if one day gets too crowded. And on the flip side, if you see days where there's nothing being shared it is easy to add any social message and pull up an old blog post right from the calendar.
It's a great birds-eye look for the content published on both your blog and social media channels. Below is an example of the calendar for the CoSchedule blog.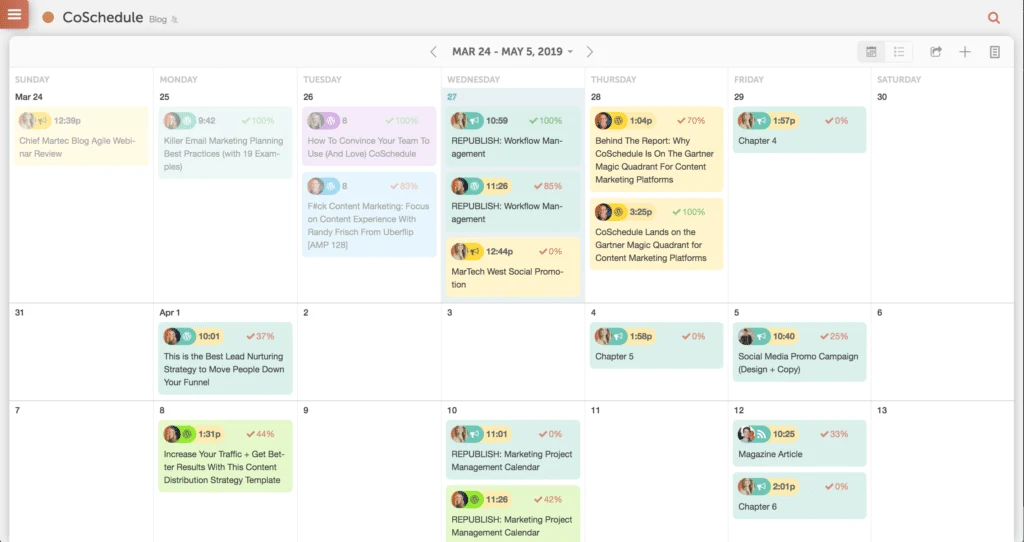 Tasks and Checklists
If you have a team, you can make task lists and assign them to other members with deadlines, so you can always see where the post is in the workflow. Even if you don't have a team, you can set up tasks that need to be completed before a post goes live.
Sign up for CoSchedule
Ready to sign up for CoSchedule? My referral link here will give you a free trial to try out all these amazing features.