Pumpkin oatmeal chocolate chip cookies.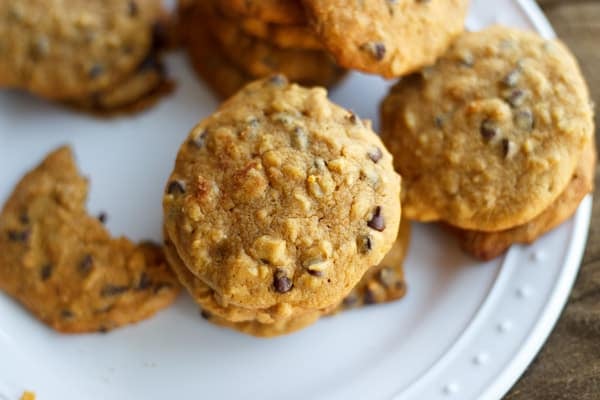 As you may be able to tell, I've been on a bit of a pumpkin kick lately. I bought about 8 cans from Trader Joe's and I've been trying to figure out things to make with them so I can have a reason to go back and buy more. What better way to use up ingredients than by making cookies?  I'm a big fan of oatmeal chocolate chip cookies, so I thought I'd just add some pumpkin to them. Makes it feel slightly healthier with the oatmeal, which is maybe why I've felt the need to eat a dozen or so before I could even sit down to write about it. Yum. I had to bring them to work just so I wouldn't eat all 4 dozen by myself. They didn't last long at work, either.
Any pumpkin dough will be pretty sticky, so I recommend using a cookie dough scoop for these. With each batch, I added a bit of time to the cooking timer, and I think the best was about 20-22 minutes. Though you may want to experiment with longer times if you prefer them a little crispy (these were pretty soft).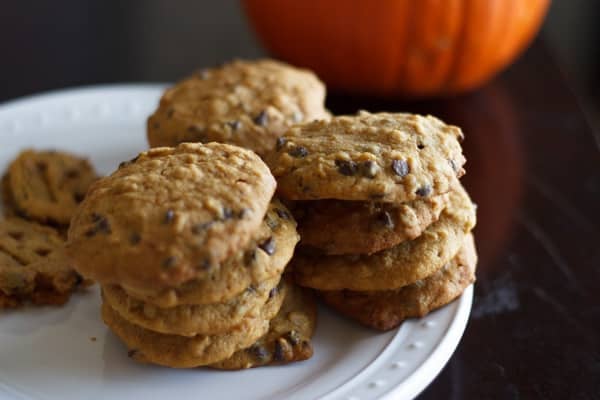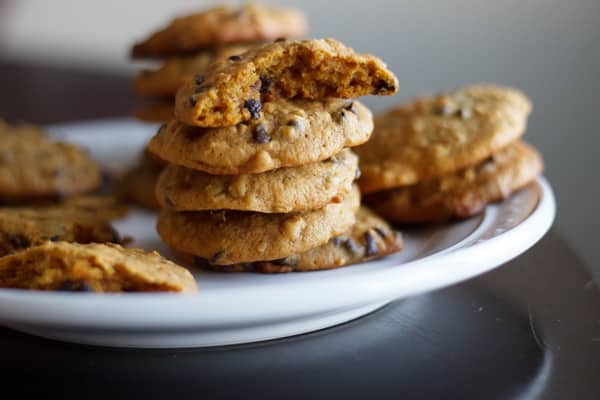 These would go great with some homemade pumpkin spice latte's, don't you think?!
Pumpkin Oatmeal Chocolate Chip Cookies
15 minPrep Time
20 minCook Time
35 minTotal Time
Ingredients
1 cup (2 sticks) butter, melted
3/4 cup white sugar
3/4 cup light brown sugar, packed
1 large egg
1 can (15 oz) pumpkin puree
1 teaspoon vanilla extract
1 teaspoon cinnamon
1 teaspoon pumpkin pie spice
1 cup old fashioned oats
2 cups white flour
1 teaspoon baking soda
1 cup chocolate chips
Instructions
Preheat oven to 350 degrees Fahrenheit.
In a large mixing bowl, mix together melted butter, sugars, and egg.
Mix in pumpkin, vanilla and spices.
Add oats, flour and baking soda. Mix well.
Stir in chocolate chips. Dough will be sticky. Use a cookie scoop to place on baking pan. Cook in preheated oven for 18-22 minutes or until lightly browned.
Notes
Makes approximately 4 dozen cookies. Can store in airtight container on counter or in the refrigerator for lasting freshness.
http://www.trialandeater.com/pumpkin-oatmeal-chocolate-chip-cookies/